Note: I am known as CorruptedMuse on any service I joined after September 2017 or any service that lets you change your username.
Area 11
[
]
I originally found out about Area 11 via the Yogscast (probably the Dota 2 Beta thing), where I followed the links to Euphemia and was hooked.
Sparkles*'s works (Area 11, Ghost Cassette, Ghostofrecords, Harry's Happy Pumpkins, White Lodge) consistently remain in my top played. Between computers and across years I've probably listened to at least a few weeks total of such songs.
Usually my enjoyment of Sparkles*'s works follow a distinct pattern. On the first playthrough, I'm usually unimpressed, but with each replay, my enjoyment increases exponentially. The time until I absolutely love the song varies. Are You Listening? and In The Blind took only one run through, while Watchmaker took quite a few loops on YouTube (it's now one of my favorites).
Writing
[
]
As an Engineering student, I've got a lot of experience writing technical reports and lab reports and oh god so many reports. I'm also sporadically active on the SCP Foundation, giving out writing advice and testing myself to see how good any potential SCPs I write are. Because of this, I'm fairly good at technical writing, which probably appears in the articles I write/edit.
I started here (the Digital Haunt Wiki) creating the pages for Breakthrough and Breakdown (which I originally got mixed around, quite awkward first steps). I've since been doing lots of cleanup where I see necessary, resulting in me having edited nearly all the articles on this site. I've also got a lot of ongoing projects, such as standardizing the theme pages. All I have left to do is fixing all the links to the now-redirect pages.
I also made some theories. Check out my blogs.
Music
[
]
I've been playing piano and composing songs for years (check out my bandcamp or soundcloud!) This has given me lot of experience with music theory and such, which I haven't been able to apply really in my time on the Digital Haunt Wiki.
One of the things I'm working on currently is to develop my ability to transcribe songs. Back in Sparkles*'s My Week vlog #009, he played a Untitled Song, which I really enjoyed. So I learned to play it in a few hours (and transcribe it later). Sparkles* then, in his next vlog, described it as "Fucking Amazing", so I've been motivated to try and do that more in the future (especially Area 11 songs).
I also can play Heaven-Piercing Giga Drill, but I found sheet music online for that.
Art
[
]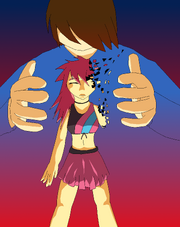 I make art, but I consider it more of a hobby compared to the music I do (in fairness, both are hobbies compared to engineering). You can find some stuff on my deviantart.
I made some Area 11 fanart, featuring Cassandra. Here it is:
Other
[
]
Many people have told me that I have a repository of the most random knowledge. Although I'm technically a Chemical Engineer, I know a lot about other sciences: Physics, Biology, Ecology, Anatomy, Forensics, ect. I also do a fair bit of coding, and I rate myself rather competent on the computer.
Manga & Anime
[
]
I got into anime pretty much independently of Area 11. I'm pretty picky about what I watch, a little less so what I read.