This is a page for all songs that relate to Digital Haunt but do not have one official title. Pieces should be removed from this list if/when they are given one.
Sparkles* Vlog 9 Song
[
]
In Sparkles*'s 9th vlog, "Left-Handed Drunk Bowling", he performed a short piano piece for Monday's section (here is a link to the exact time). After performing it, the video cuts to the same song within a composition software, where a copy of the melody track played with synths was layered over the piano.

As it sounds very similar to sections of Prologue III, Shifter104 theorized it could be a part of a new Prologue section, however, Sparkles* himself revealed it was not. Another likely candidate is one of the unreleased THE SOLUTION: PHASE THREE songs.
Here is a transcript of the song, provided by RockDHouse.
Pre-Order Announcement Songs
[
]
In Area 11's YouTube video (See right) where they announced then-unnamed Modern Synthesis, three songs were played in the background. The first one, at 0:50, seems to be an early version of Override [C], the second at 1:16 has not yet been identified nor included in Modern Synthesis and features both calm chiptune and heavy guitar, and the last at 1:36 , which is Angel Lust, but with different lyrics. As transcribed from the video, they go: "When I run outta time, let it go", likely to have been later replaced with the first line of the 2nd verse: "The bridge collapsed but you took the stone", due to having the same/similar rhyme.
The first and last song were included in Modern Synthesis, but the middle one is yet to be released.
Modern Synthesis Part 2 Tour Announcement Song
[
]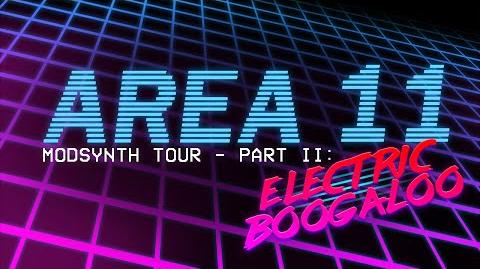 To announce the ModSynth Tour Part II, Area 11 released video where animated text containing information about the tour in a neon-like environment, similar to Watchmaker's video. Over this announcement, an unheard Area 11 song played that was mostly comprised of 80's style synths with little guitar. The video also contained some minor visual distortion.
Area 11 Vlog 2 songs
[
]
In Area 11's second blog, there were some clips of the band recording possibly new Area 11 songs. This is difficult to confirm due to the fact only Leo's drums could be heard.
My Week #19 Song
[
]
In Sparkles*'s 19th vlog, from 5:00 to 5:27, he shows off an as-of-yet unknown song. It is an upbeat electronic song. No vocals are heard, but it can be assumed that there are words of some kind, as one of the channels in the song is named "TEXT VOX," and consists purely of an audio track.