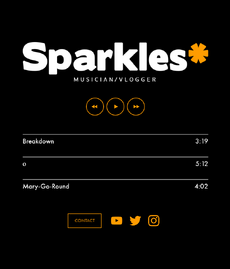 Sparkl.es is Sparkles*' website, which can be accessed by clicking this link. It was first revealed on his Twitter page.
The current version of the website as of January 23, 2017 is a small audio player with three of Sparkles*'s songs: Breakdown, ο, and Mary-Go-Round. At the bottom is a contact field, and links to his YouTube channel, Twitter Page, and Instagram. Sparkles* used SquareSpace to host and create the site.
Old Content
[
]
The website was a basic HTML index, containing 3 sections.
The URL danielyount.com goes a basic website format with no actual content. Daniel Yount is the guy who did music for Shadow of Israphel, a Yogscast series. It is believed Daniel Yount and Sparkles* worked together on some Yogscast projects between the time Sparkles* joined and Yount left. Connections can be made in the Heaven-Piercing Giga Drill Minecraft video, where Yount composed a short suspenseful track during the intro, and this other video on Area 11's channel.
All three of these links now no longer link anywhere.
Later, Sparks re-launched new website which offered a range of services.
Composing
Song-Writing
Mixing
Re-Mixing
Promotion
On this new website you could also find an about section, portfolio, pricing and a way to contact him directly if you would like any of these services. 
The website listed that he has worked with the following bands : Area 11, Ghost Cassette, Don Broco, Dogs Die In Hot Cars, Beckii Cruel, InTheLittleWood, Sips, Sjin, Duncan, The Yogscast, Superpowerless/Oliver Age 24, Dan Bull & I Fight Dragons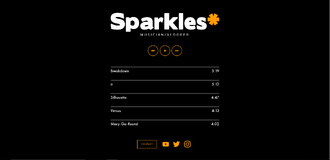 Sparkles* replaced all content with the audio player by January 12, 2017 with two extra songs: Silhouette and Versus. These were later removed.
Web archive
[
]
On March 13, 2012, web.archive.org has captured the following page:
http://web.archive.org/web/20120313123111/http://sparkl.es/
It contains some info about Sparkles* + a films section, where a music video by Sparkles* & friends, a trailer for a Sparkles' feature film and more is published.