"The point of understanding wasn't this"

The following content is unrelated to Digital Haunt. It should not be used in theories, and should not be considered canon.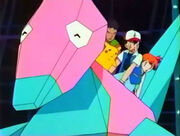 Porygon Will Have His Revenge On Tokyo is a short joke song and video by Area 11, initially revealed by Sparkles* on the Soundrop chat. The name of the song references the infamous 'Electric Soldier Porygon ' episode of the anime Pokemon. The episode is infamous for an explosion caused by Pikachu which makes the screen rapidly flash red and blue repeatedly. This strobing effect resulted in many children in Tokyo suffering seizures, resulting in hospitalization.
The song is said to lead the band in 'a new direction', with a sound consisting almost entirely of synth.
Reveal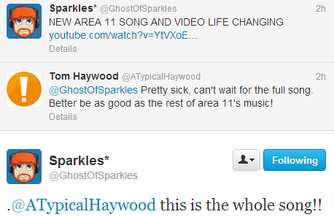 Sparkles* posted a link (later removed) to an mp3 file on Soundrop chat on the 28th May 2013. The file was called 'Area 11 - Porygon Will Have His Revenge On Tokyo', and was just 18 seconds long. The track displayed a heavy influence on synth, however contained no lyrics for analysis.
Sparkles* claimed on Twitter that the 18 second clip was not in fact a sample or a teaser, but actually the whole song.
Music Video
Later that day, Sparkles* posted a hidden link to a 'teaser' for a music video. The video featured a record turntable rotating, with Brazil nuts being dropped onto it and spinning off. The video also contains hidden captions: 'It's just life' at 0:01, 'A' at 0:05 and 'BRAZIL NUTS?' at 0:09. 
Trivia