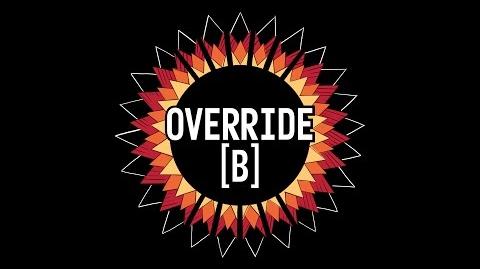 Override [B] is an instrumental track released for free download by Area 11. It is a direct continuation of Override [A], a bridge to Override [C], and part of the Override Symphony.
"Override [B] is an experimental, instrumental track which flows from its predecessor track on Underline EP, a nexus point between two universes, setting the scene for what is to come."- Area 11, from the Area 11 Official News #18 email.
Override [B] begins with the same pinch harmonic that Override [A] ends on. Around 21 seconds in, a faint female scream can be heard in the background. It is made-up mostly of orchestral and choir sounds with the usual drums, bass and guitars; it swells up to a big finish where it ends on a quick filter up. Towards the end, it sounds like the choir is singing 'Tick, Tock'. There may be some hidden vocals in the mix.
You can find the download it here
You can listen to it here
The track is also included as a hidden track at the beginning of the Modern Synthesis CD [Link to Reddit user MrCrazyID's post]
Community content is available under
CC-BY-SA
unless otherwise noted.