Ghost Cassette was the band Sparkles* was involved in prior to his involvement in Area 11 and after Harry's Happy Pumpkins. The band were originally known as 'The Midnight Juice Drinkers' and played their first gig on the 15th March 2007 at Geisha, Nottingham.
Members
Sparkles* - Guitar/Voice
Kush Pisavadia - Bass
Abbie Mason - Synth/Voice
Chris Reaney - Guitar/Keys/Voice
Rob Johansen - Drums
Dan Cook-Scowen - Drums
Will Pickering - Guitar
Dave Maggs - Drums
Charlotte Krol - Guitar/Voice
Discography
Ghost Cassette released only 1 EP, Strings. They planned to release another EP called Scissors but it was never released while the band was still together. It was, however, released as a free download on the Area 11 Bandcamp on the 4th June 2013 (later removed). They also released a single, known as Obsolete.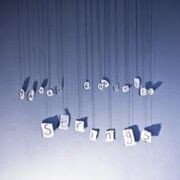 Unreleased
Trivia
There could possibly be a link between Ghost Cassette and Cassandra, but according to previous member, Abbie, there is no link.
Sparkles*, in response to a question on tumblr , has stated that his favourite Ghost Cassette song is Hypoxia.
"Next came Ghost Cassette, whose lead singer had a truly epic fringe...some nice vocals and well-structured guitars and drums." is a quote from a review by Aaron McGaughey of Impact Magazine of a gig that the band played.
Ghost Cassette's Facebook bio states 'do whatever it takes to survive', a quote from their song Marionette .
Their ReverbNation bio is "We've combined so many styles, we've made a new one."
Strings can be bought from iTunes in the UK here and in the US here , Scissors was also available to download free from the Area 11 bandcamp. It can be heard here.
Sparkles* stated in his second Reddit AMA that it was 'not impossible' for Area 11 to do a cover of Ghost

Cassette.
All of Scissors can be listened to on Sparkles*' Soundcloud. Blow out the Candles can be heard At 11:56 on a video here.
Community content is available under
CC-BY-SA
unless otherwise noted.