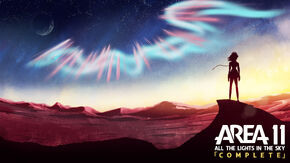 The Echoplane is a recurring concept, most notably on the Twitter profile of
@area11cassandra
.
It is assumed it is the place where the story referenced n lyrics takes place. Additionally, Sparkles* confirmed that Area 11 are a part of the main story but are not main characters.
Cassandra
Cassandra originally had 'The Echoplane' listed as her location on her twitter account, until late May 2013 where it was changed to Tokyo, Japan, along with the website changing to digitalhaunt.com . If Cassandra is taken to be a form of machine, one theory could be that the Echoplane is a metaphor for cyberspace or the internet.
Echochamber
The Echochamber is a Nottingham-based recording studio used by Sparkles* and Area 11:
"I own a recording studio, The Echochamber, which lies deep in the heart of Lenton, Nottingham. As well as recording, I also offer mixing and mastering services." - Sparkles*
This may or may not be directly linked to the Echoplane. It was mentioned by Sparkles* that the Echochamber is a converted council house.
Prologue III (Echodeath)
On the 17th May 2013, Sparkles* released a new sound onto Soundcloud, called Prologue III (Echodeath). The track features warped and twisted sounds on top of a techno beat, along with eerie whispers and reversed messages. The track also mentioned a god, Echo, who inhabits the Echoplane.
Other