Bravoman is an animated series created by ShiftyLook that is based upon the arcade game character of the same name by Namco Games. The first episode was released on 20th May 2013.
Theme Music
The main theme music is Randy Rogel by Rob Paulsen. The ending song (
Go!! Fighting Action Power
) is listed as having been written and composed by
Sparkles*
, and performed by
Area 11
. An instrumental version of the song is also used in the trailer for Bravoman. 
Shi No Barado was also played as the outro of episode 12 'The Grand Prehistoric Space Hockey Adventure'.
Bravoman and Project S*
There is no confirmed link between Bravoman and Project S*, although it may be important to note that Sparkles* has said that 'legally' he had no input into the design of anything to do with Bravoman. It is also notable that one of the re-occurring female characters (Waya Hime) bears more than a passing resemblance to the Cassandra character that appears in much of Area 11's imagery.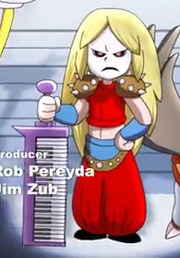 Another note is the use of the keytar sword used by the antagonist "Benjamin, the heavy-metal ninja of PAIN". The keytar sword became popular through Area 11 fan art and could be a connection to Sparkles*
During Episode 10 "Heavy Meta Mayhem", where Benjamin was first introduced and fought, Bravoman had the entire music crew of Bravoman fired in order to drain Benjamin's power, including a theremin player, Tommy, Randy, and Sparkles*. Because of that, during the end credits, the characters of Bravoman had to do a bad a cappella rendition of Go!! Fighting Action Power.
Also, the machine sounds from System;Start are the same as the sounds in Episode 1 when they are hanging over the pit.
External Links